Let's start another conversation.
My Modern Quilt Guild also started an Improv Round Robin after Ms Sherry Lynn Wood's presentation this summer and I signed right up since I'm always happy to play with other quilter's fabrics.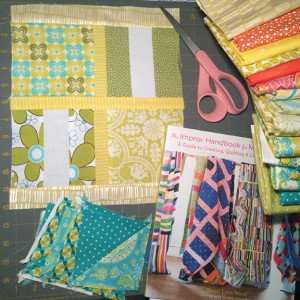 For my September 2015 start above, I came across the 'orphan block' I'd originally made for the St Louis swap last summer, (I ended up making another block for that project) and it was perfect! My fabric pull included similar colors, plus some coral and, after 'adding some shinies' to the block, it was good to go. Easy Peasy!