It's not really a surprise. I've known about her pregnancy for the past six months. I just wasn't thinking that I would make anything…and then I had second thoughts. It might be nice to make a baby blanket. You know, it's a small project and I seem to be able to finish smallish projects these days. So, why not! It's only a couple weeks before Christmas. I'm not busy! Heh.
Here's my starting fabric: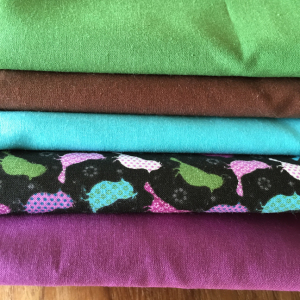 One, two, three… Go!
Update, Dec 15th: It's taken me a week to actually start this quilt. Nevertheless, I spent the afternoon cutting out the 9" squares and then again diagonally at the 3" to 6" in order to make the tessellating windmill blocks.
Wow! This inspires me for another quilt… next year. 😉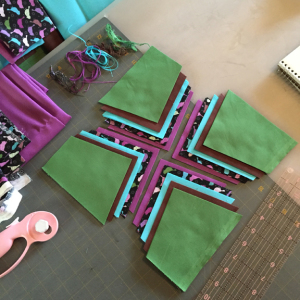 Once I laid out the pattern, the piecing went quickly, squares then rows. Only the remaining purple fabric is large enough to wrap around for backing and binding.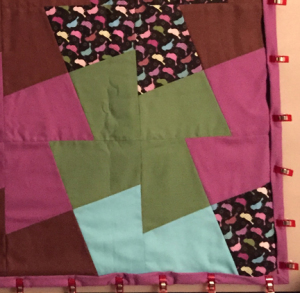 Unfortunately, it takes another week to have time to quilt it, but I'm able to finish the binding in time to wrap and place under the tree.