The County Fair is just around the corner and I've been working to finish this project to enter as part of a group exhibit.
Back in July, I began a Round Robin journey with the Mod Quilt Guild I'd recently joined. Thus, I've posted the other blocks I've worked on in Aug, Oct and December. It was much fun and now, my own block has returned and it's taken on a New Direction!
My thought is to echo one more arrow border with a previous orange honeycomb & my robin's egg blue fabric, that will look fab as the backing. Next, I sandwich a premade multi-color stripe between that hot pink I used on another block's border and the orange echo fabric, then finish with a slender stripe-y binding.
Lastly, I aim to machine quilt it. However, I'm hesitant and worse, my Husqi wasn't very happy sewing through the three layers. Even with a simple straight stitch, I just couldn't keep a steady tension. Please note: this is also my 1st attempt to machine quilt!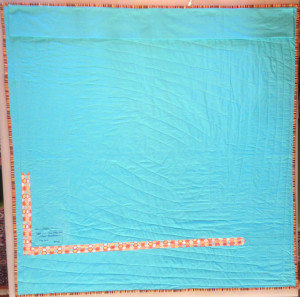 After a few false starts (Hey, it's not a real sewing project without my seam ripper!), I decide to create a square spiral over the entire 41" square. And you know what? Although the stitches aren't particularly consistent and my lines aren't particularly straight and I ran out of thread twice, I really like the look of the spiral. It's quite mesmerizing. I may have hit upon a quilting design for my Carpenter's Wheels' with this one. Yup, new directions indeed!