With furious sewing and quilting over the past few months and weeks, I finished the 2014 Hoffman Challenge. True to form, I ran into some strange issues I didn't experience previously.
Unlike the Magenta version, the Indigo fabric has colorful orange/pink filigree in the background, instead of subtle purple or blue. Thus, I spent much more time fussy-cutting: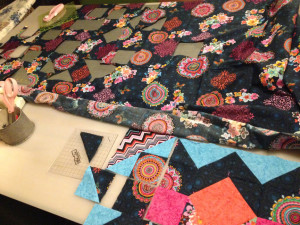 Easily, I assembled the block as before. And then it occurred to me. Since 'Magenta' will ultimately grace another quilt (stay tuned for that journey!), when I finished the square, it was done. Now, except for simple hand quilting, I hadn't actually planned out how to finish this! Fiddlesticks! So I spent a good deal of time thinking about the design & interviewing color border ideas. Of course, the border had to include colorful super-sized Prairie Points! Here's my finished design: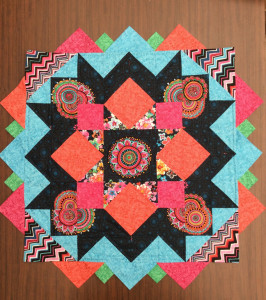 Oh, and then there's my crazy internal sleeve? Right. It worked fine for the Heart Quilt. However, I decided to incorporate the selvedge, so I had to maneuver the fabric and I had a strip to 'almost' match it. Finished the rest of the back with stripes loosely based on Fibonacci number sequence. Maybe next time, I'll try the Golden Spiral! Here's the back view: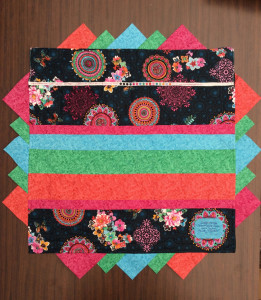 I absolutely love my Indigo Mandala! It turned out even better than I'd imagined. Yay!