Here are my very first Block Challenge fabrics: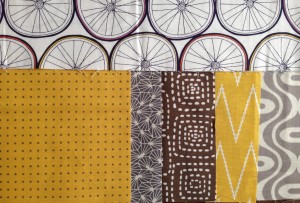 Not really colors I'd ever pick out, but they kind of remind me of my house!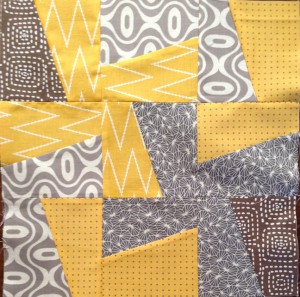 My first stab at an interesting block is a version of that windmill tessellation I discovered last year.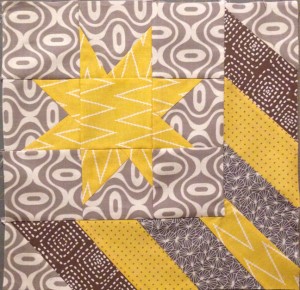 I'm more excited by my rising star design. I had the idea to do a 'stars-n-stripes' theme for the Fourth of July. My wonky star needed wonky stripes. This was one of those late-night construction deals and I was holding my breath through the whole process of measuring out the stripes, since there was only a square foot of any of these fabrics left! And how was I ever going to make that corner work? Well, I assembled the stripes from outside in except the middle yellow strip and attached them with the last inch open, then attached that strip to lay flat and hand stitched the corner down. I'm super amazed. I didn't tear out stitches once on the whole project.
(This is a first for me!)
[update] Even more amazing… When it came time to hand my blocks in, I was so sad to give up my star and I really wanted to keep it. (sniff!)
With 35 blocks completed, there would be two names drawn. As they read off the randomly chosen numbers, I could scarcely believe it. I was one of the winners! Now I'm looking for setting strip & border options and I need to create one more block.
Here are the 19 blocks I chose: