I'd entered my heart quilt in our biennial quilt exhibition this Spring. Of course, after a month of deliberation and trying to fix my pesky prairie point border, I gave up and took it apart the week before it was due. Spent an evening cleaning off all the little bits of thread. Fun!
Once I laid everything out flat again, I set the points to the correct depth, pinned them on, and pillow-topped the border again. This time, all went as planned and I could begin quilting.
Ah, but my creativity got the best of me and, since it's a two-sided quilt, I designed an internal sleeve for hanging.  Took 4" apart on either side, slipped through the sleeve and blind stitched it all back into place. It looks pretty nice, but I'm not sure if it will hang right. Plus, I'll have to deal with quilting the top when it comes back from the show.
And then, I ran out of thread!
Before I'd decided not to use the rose pink backing, I had some wonderful heavy, glazed thread to match. Spent one morning looking for burgundy quilting thread. I didn't think it would be so difficult, however I couldn't find much in the way of burgundy fabric either! What I used ended up giving me such a headache by knotting up every stitch and occasionally fraying that at one point, I sat down and cried.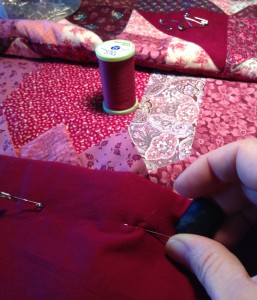 Pulling myself together, I realized that I could only do so much quilting this week. So I decided to do the 'bare necessities' to stabilize the natural cotton batting, ie: one inch from the edge, one zigzag in the border, frame the heart border & just along the bottom heart lines. This worked out just fine.