A call for entries to the local Modern quilt guilds went out earlier this summer. It seems an Ohio Amish Quilt Exhibition is coming to the SJ Quilt & Textile Museum in November and the idea for a juried Modern show, Amish: The Modern Muse, is planned.
Hmm, where to start? Perhaps a loose definition of the typical characteristics of an Amish quilt might help. Besides being made by someone who is Amish/Menonite, these quilts tend to have a strong geometric design in either muted (browns, greys, olive, rust) or single color, often black, with vivid color combinations.
Interestingly enough, Modern quilt makers have similar tendencies toward solid color, large negative space, graphic design, and larger scale blocks. There are many similarities between modern art and modern quilt making that I should explore.
In 2010, I'd been to an Amish quilt exhibition at the DeYoung where I purchased a book of these stunning quilts, Amish Abstractions. I started looking for a traditional block pattern to scale larger. I wasn't interested in Center Diamond or Tumbling Block or Nine Patch. Another idea was to utilize several pair of wool pants. I'd wanted to make a quilt for the guest room that would be warm and it also seemed like a very practical, Amish thing to do.
The design had not really come into focus until I found a couple Amish quilts in the brick road style made out of wool suiting edged with blue or bright red. I decided to scale the bricks up from 2-1/2" x 5" to whatever the pant leg width was, which turned out to be 10" in most cases. I had just four pair of pants in slate blue, moss green, charcoal grey and earth brown; the colors somehow had meaning to me: sky, moss, rock, soil. As I built the 10" block design, I started playing with the direction and color combos. I realized that time was of the essence and although I'd like a bed quilt, this quilt would only be 5 x 5 blocks and settled on an off-center cross as my design.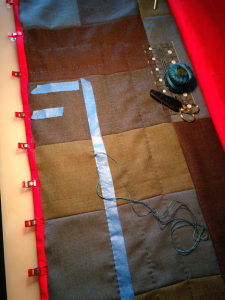 As is my style, I spent more time designing than creating. From cutting the pants to sewing on the label took just two weeks. It may be interesting to note that I spend almost as much time un-quilting as I do quilting. I have a tendency to want the back to look just as nice as the front and although my quilting isn't as perfect, I endeavor for a consistent stitch. I also started using painter's tape for the straight lines as my usual indentation lines don't hold in the wool. It is my belief that a quilt consists of two sides and either could be the front.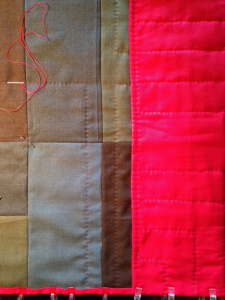 Here is the bottom left corner as I finished the binding. Truly, photos do this quilt no justice.