Happy Merry New 2015!
It's really been a great year, albeit I've felt trampled by 2014 on occasion rather than riding high. I'm still ever so grateful.
My Kreativity level has increased tenfold and I have many beautifully crafted items to show for my efforts. You see, last year, I challenged myself to make a list. Not just any list, mind you, a Kreativity List for Quilty Projects!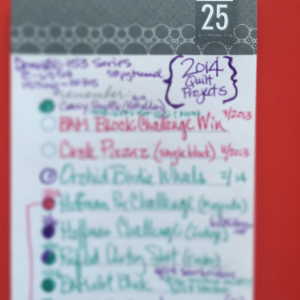 With the completion of my Heart Quilt, I now had freedom to expand my creative focus beyond handmade cards. Starting with blocks I made during two workshops and two projects from my MQG from 2013, my WIPs (works-in-progress) list steadily grew from just 4 projects with the help of my Quilty friends. Last week, I topped my list with 4 gifts for my nieces & nephews (finished all but 1!) to make it 24 projects in 2014! Many have been posted here and I'm pleased to count 15 off the 2014 list as complete. Yay!