Time to recharge with my creative colleagues for a Quilty Retreat!
Even thought I had plenty of projects with me, my friend E, was making these French seamed pillowcases and I couldn't resist making my own set out of this yummy Michele Hill fabric I found last month. Her designs keep 'the genius of William Morris' alive.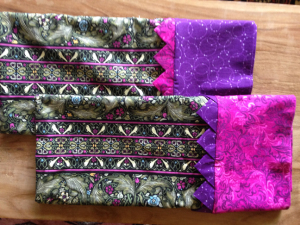 These were supposed to be the same, however I was 2" shy to do both bands in one color, so I found a fun tutorial and added Prairie Points to the band. Now they are just adorable!
Still not motivated to work on 'Orchid Wheels or Blocks or Chickens,' I happened to hear from N, that the upcoming BAMQG challenge was to create something using a 'what was I thinking'/ugly fabric. Hmm… looking in my new box of hand-me-down re-stash fabric, I found an Alexander Henry fabric called 'fossil fish' that seemed to fit the bill. Sorry, I cut it up before photos, but here is another colorway for reference: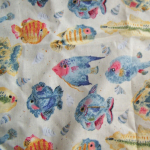 Hmm… what to do? When in doubt, go with what you know: magic 8 HST! The consensus is that most of the fish looked strangely puffy, sleep-deprived or beat up, however the 'bashful angelfish' seemed salvageable. First, I dug out my 'center focus' measurements from previous Carpenter Wheels and cut him out for the center block. Then I chose a nice pink batik and sew together some easy triangles. Here's my first layout: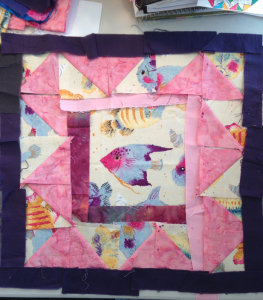 It's all right, but the purple border is too dark and I decide to just make a Wheel after all. Unfortunately, I only have a few strips of that fishy fabric left. What other fabric can I find in my scrap box? Hmm. Adding the hot pink squares and the gradated blue for the corners seemed to work well. However, the typical star center didn't, so I turned those 8 squares around to come up with a little viewing porthole inside my Wheel instead. My Fishy is kinda sweet!