What a whirlwind week!
Once again, I wasn't planning to take a workshop, yet after a little research on our July speaker, Ann Shaw (as well as her mentor, Ruth McDowell), I realized that the piecing techniques these women pioneered were exactly what I've been looking for in modern, art quilt making.
Since the workshop sold out quickly, I completely lucked out when a second day was added. Sadly, Ann's pattern 'Gallus Gallus' was sold out and I wasn't in love with any of the other chicken patterns. Instead, I decided to make the 'Mountain Chicken,' which is a frog! Plus, my sister is a frog fan, so this might be a gift for her.
As you can see by the picture below, I spent much of my time 'interviewing' fabric snippets that might work as part of the design. This is a wonderful way to utilize tricky fabric; each decision informs the next choice you make. I have the front half of the frog working, but I can change my mind at any point.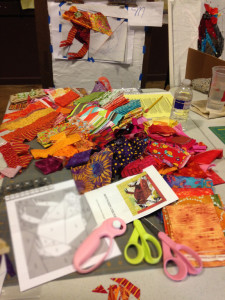 One thing I'll keep, the title: Desert Chicken!
Speaking of which, before the workshop, Ann lead a little field trip to a local fabric shop. She pointed out various multicolor fabrics that seemed unlikely choices for our chicken, yet work wonderfully to add interest. By looking at the texture and size of print, not just color, these projects are bound to be as much fun to assemble as to view.
Afterward, the group ventured into a flower and garden center, where Ann gave insights into floral photography utilizing design techniques I learned in college and from my father. The afternoon has been a wonderfully artistic surprise.