Ah, this Holiday Season has been filled with so many gifts lovingly made!
Potholders (square & chicken), baby quilts, Elsa capes, Baby Monkey clothes and one DIY project for my nephew…
Let's start with one of my few UFO's from 2012.
I just didn't know what to do with these fabulous squares. They didn't speak to me as a quilt, or even as pillows, so I shelved them. Last year, I had a brilliant idea to make them into potholders but ran out of time. This year, determination for gifting them even spurred me to try machine quilting again. How wonderful small projects are!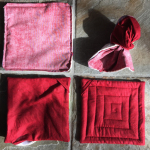 Since I gifted them to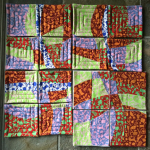 four friends, I also got to turn gift-giving into a game. Once opened, they had to match up the squares for the win!
Hee! Hee!