Funny story two-step:
In June, I made a simple little quilt block out of 4 squares of citron/blue print fabric and a striped yellow strip that I'd found during a de-stash event this Spring. It was very sweet, and I really didn't want to swap it, but I let it go. I figured that if I ever stumbled upon more of those fabrics, I could make something more substantial than a potholder.
What's funny is that I gave my block to someone, who turned it in to the organizer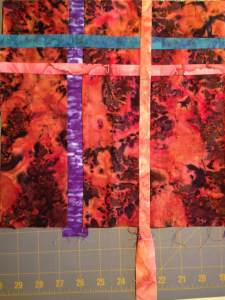 with several other blocks. When she redistributed the blocks, I ended up with mine back! Since I hadn't really wanted to part with it, I decided not to (!) and searched my ReStash Box for another block start to make into a gifty. Lo and behold, I found this little beauty:
There were several leftover strips and another large swatch of a complementary batik print, so I thought to make a variation on this Skinny Pincushion I came across recently.
With minimal sewing, I zipped together a second block (red leaf pattern w/diagonal strip), sandwiched them together and stuffed the pincushion end.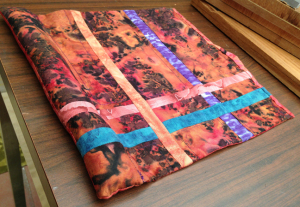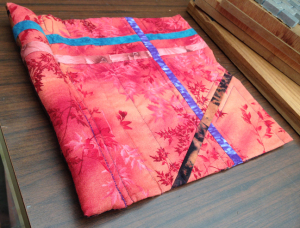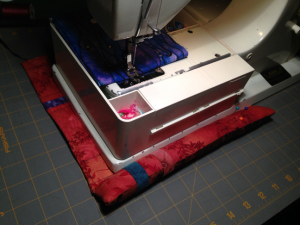 Voila! My Skinny Pinny Machine Pad for some lucky quilter in St Louie!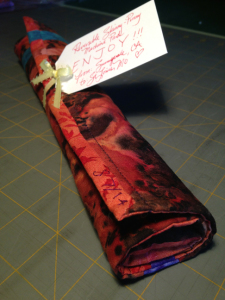 UPDATE September 2014: At the meeting this month, there was a table full of fun hand-made items from the St Louis Mod Guild. We drew numbers and mine was 4! That meant I might receive a goodie I actually might use. When I saw this little beauty, with it's sleek 6″ x 9″ design (there are flying geese and plus+ blocks) and soft muted colors (that coincidentally matched what I was wearing!), I was in love.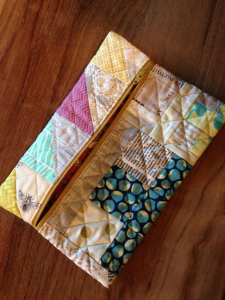 My new travel case holds all my sewing and sketching tools and is always ready for road trips! Love it!!! Thank you, St Louie!