It's true.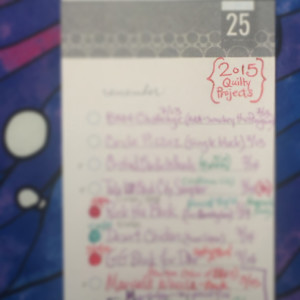 I've not wanted to sew or paint or cut paper or much of anything this year, in light of recent events. However, I sat myself down and looked at my Quilty Project 2015 list, even though I knew it might depress me when I counted how many open projects I have to list already for 2016.
And it did.
It also reminded me that if I'm going to make any progress, I might try finishing small easy projects first.
FIRST FINISH 1st/2016
First, let's finish those gifts I wanted to give my Quilty friends in December 2015… and let's call them New Year presents! Here's a sneak peak of my First Finish of 2016!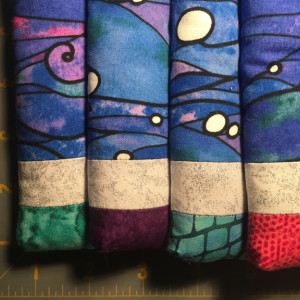 Now that they've been gifted, here are the four Skinny Pinny Mats I made: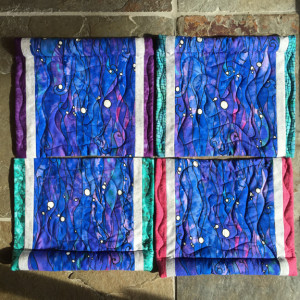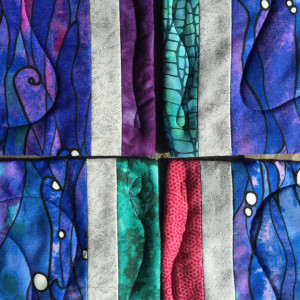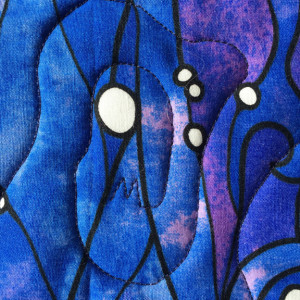 The idea came from The Patchsmith and Green Bee Patterns. So go make a few!
FIRST START 1st/2016
Next up, the January challenge from my local modern quilting guild is to use this Improv fabric by Carol VanZandt in a finished project. My colleague and I split our picks, so I had Red & Neutral which paired nicely with this oatmeal linen.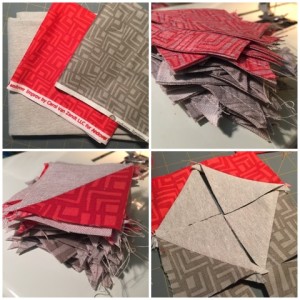 I started cutting & sewing triangles on Monday, January 4th and two days later, I had this gorgeous HST Carpenters Wheel. By Friday, I'd pieced the B-side (which incidentally turned into the next guild challenge due in April. How Lucky!), made an internal quilt sleeve (squee!) and started simple hand quilting. Did I mention it was due Saturday?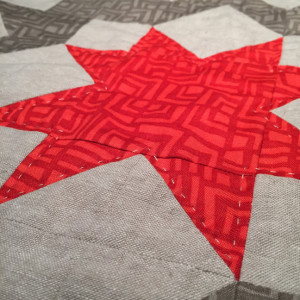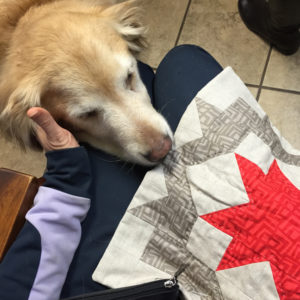 And that I received much support while hand-quilting this little darling?
Anywho… I carefully quilted around the wheel & star and pondered doing more. However, since this is reversible, the simple ghost image was perfect to show how I 'unraveled' the block for the upcoming Scale & Size challenge.
I SO love this!