Some of my favorite gifts have been 'action' gifts. You know, the kind where you are invited to experience as opposed to simply get some thing. This year, that gift was in the form of a mega pad of Origami papers from my friend, F, who is also making 1K cranes. Our plan is to make 3 each day, finishing around Thanksgiving. Welcome to the year of One Thousand Cranes!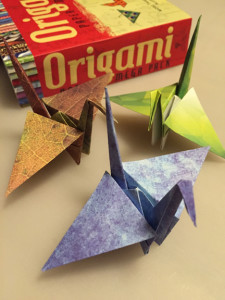 "The crane is a powerful symbol for loyalty, nobility, and beauty. According to Japanese tradition, anyone with the patience and commitment to fold 1,000 paper cranes will be granted their most desired wish, because they have exhibited the cranes' loyalty and recreated their beauty."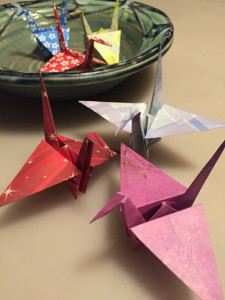 My most desired wish is under wraps until the end of this journey. However, one of the fun additions we are implementing as each crane is folded: think of a person and all the blessings they have brought into our life. Heavens! Do I even know a thousand people?!?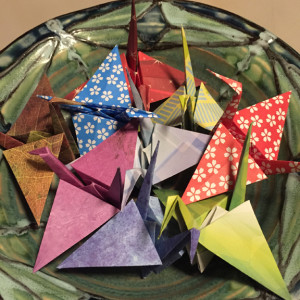 Ah, well… Crossing that bridge when I come to it. For now, this is a physical reminder of how blessed my life truly is because of those I've met over the years.
UPDATE: 1/26
After a few weeks of folding cranes from the pre-cut 6″ papers, it occurred to me that I should try my hand at making the 3″ version. Honestly, I wasn't sure I could make the folds, but here is my first one, perching on my keyboard for scale.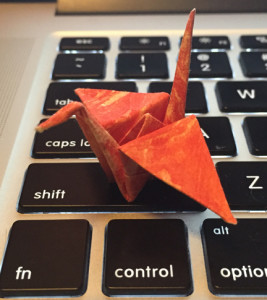 Over the weekend I made a few more and think I like this size better. 🙂