There's nothing like having three full days to focus on Kreativity!
Earlier this spring, I got the call asking if I could fill in for an attendee who was unable to make the March quilting retreat. Would I be able to swing it last minute? Would I ever!
I have been percolating several projects for the past 2-9 years without scheduling time to complete them. How fabulous to have this offered now!
Thus, the three projects I brought with me were in various states of progress:
Neck Tie Quilt My main goal was to find some options for assembling a quilt made out of neckties as I've been confounded by this project for the past three years. The problem is that I've chosen to leave the integrity of the ties intact which forces me to contend with the great variety in width. So far, the best idea is to assemble the ties as appliqués on top of a finished backing (ie, backing/batting/backdrop fabric for quilt top). Aha! Good idea! (Further progress set for another time.)
Scrappy Cat Throw To transport the ties without losing their placement, I wrapped them in another quilt I made in 1999. This quilt was pieced from fabrics my mother sent me when I expressed an interest in quilting again. I ran out of her scrap fabrics and wanted a larger size, so I purchased a black solid for the border and made an extra 11 black cats to complete an 86″ x 65″ throw quilt. Over the years, my minimal seam allowances have frayed and I spent an evening mending the quilt I made in honor of Orion, our original 'Scrappy Cat.'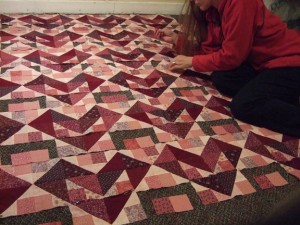 Heart Quilt My own personal inferno began in Feb 1999 with a 'shaded four-patch' heart design from a book by Suzanne T Hammond called the Value of Value. I was intrigued by the use of value, rather than just color or shape to convey a design. Purchasing 18 fabrics, six each of lights, meds & darks ranging from burgundy to pink, I naively set out to create this quilt of hearts. After piecing the first six hearts together, I realized I had to add another lt/med/dk fabric to complete my design of 24 uniquely pieced hearts. Had I been thinking ahead, I'd have added two each to make this easier on myself. Often our hearts travel more challenging roads on the journey than necessary.
We moved in 2000 and I put my 'heart' on the shelf, not rediscovering the unfinished heart blocks until 2003. Another design dilemma was what to do with the corner squares of each block. With a new perspective, I tried removing the dark values, but didn't get much further as my heart wasn't really in it.
Fast forward to this spring retreat. Removing the dark value in the corners to keep the focus on the hearts sounded like a good idea, however, there isn't enough med fabrics left and it's full-circle back to the original design. This summer, I'm finally preparing to hand quilt and finish this 'labor of love' I started a decade ago.
For those of you with inspired projects in your brain and no time to 'do' anything about it, may I suggest a weekend retreat away from your home! Choose a supportive community, set up some child/animal care, schedule the time off from your job and just do it. You will find the friendships invaluable and your wellspring inspired & renewed.
Now, I can hardly wait for the Autumn Marin Quilt Retreat!