This holiday, I again signed up for the Year End Secret Swap-a-ganza gift exchange for my BAMQG. Unlike other deadlines, I created my little quilty work of art THREE DAYS in advance!
The request for a potholder for a teapot handle was pretty specific. There was only one problem. I didn't know what that would look like! I searched the web for some clue as to what I needed to make, to no avail. Then it hit me, why not make a chicken?
A what…? Let me explain. I'd received a pair of chicken potholders several years ago and was smart enough to ask for the pattern, even though I wasn't inspired to make them just then. So I looked through my project box and found it right away. Bingo! Time to choose some fun fabric. Something colorful, like this purple and teal batik fit the bill.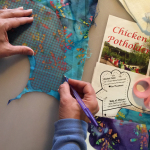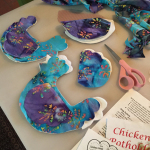 After reading all the directions, I carefully traced & cut out each piece. Before sewing, I reread directions, choosing to alter the design without the binding.
Everything came together surprisingly fast. Was it my 'magic' purple pen or rereading directions that brought success? One never knows.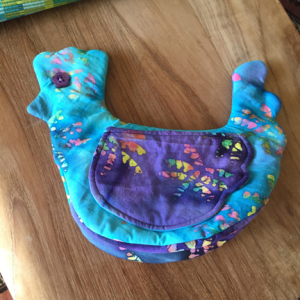 Do you think chicken potholders might be the trend for well-dressed teapots across the globe in 2015? Perhaps!
There's enough fabric left to make one to roost on my own teapot. Let's see if I have time to hunt up a flock!