Over the past couple months, my Quilty Improv Group has really delved into Ms Sherry Lynn Wood's second Score: Strings. Yes, we liked it so much that we decided an 'encore' was in order! Our quilt studies include strips of strings, negative space strings, gem-shaped string petals and yes, string triangles. 😉
With Score for Strings, I started with the solids from a baby quilt I made last year and curated fabrics in analogous color schemes: purple/orange, sky blue/yellow and green/brown/navy.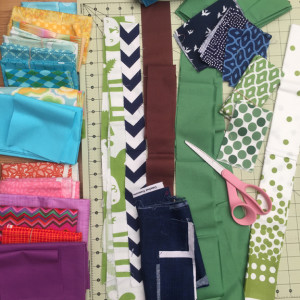 Since my projects are narrow (ie: 65″ x 16″ finished quilts for use on my table or buffet), I kept the widths between 1″- 4″ strings. I assembled my string sheets using slightly different limits, but generally I sewed in batches of 3. Sometimes, I'd sew similar prints on either side of a solid.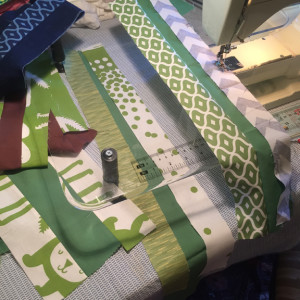 Sometimes, I'd cut the solid in 1″ strips and border each print.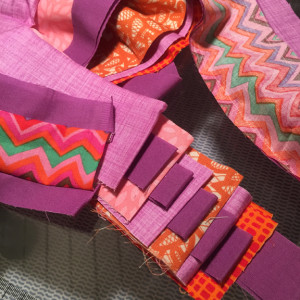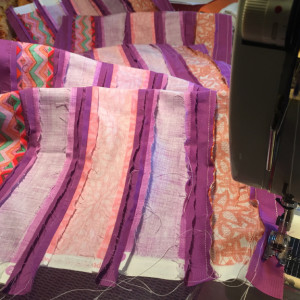 By the time I got to the blues, I was thinking wider strips. And I like watching my seams pressed open, though I'm told I don't need to care which way they press.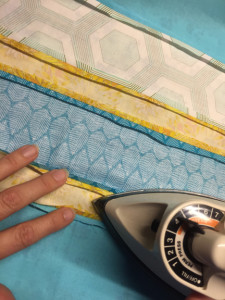 Now that I've created my three distinctive sheets, it's time to evaluate.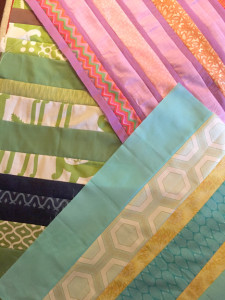 Sewing those super-long purple stripes was my least favorite thing to do, but my cutting was surprisingly straight. (bonus!) The color combos are different enough and I'm honestly amazed by how much I like that navy/green combo. I also like the curious bear & wolf prints sandwiching the brown tree-like strings. Hope they show up!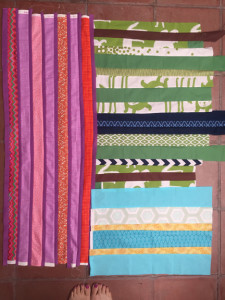 Strangely, the more I look at them, the more I like my color sheets as is! Ah, if only I could just sew them up like this! We all know that's not where this story ends. The question is, where do I go from here? Wanting to try out my ideas physically, I print up some paper maquettes and start slicing and pasting into my journal. C. B. A.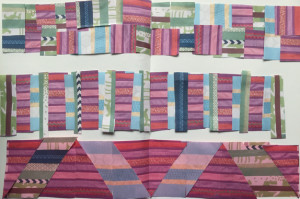 So, here's what I know…
Chopping into chunky blocks isn't interesting enough, even when I turn them about.
Long bricks and strips, regardless of the direction I cut is boring, except the navy chevron/zigzag print! I do like being able to giggle at the bear & wolf print.
Since I like the sheets, making as few cuts as possible might just be the ticket. It seems that I'm back to piecing with equilateral triangles, though mine may end up less equal than triangle.
Scale is an interesting constraint and that larger shape is exciting! Thus, my exploration has revealed my direction. Now, I gather courage with my scissors to make that first cut.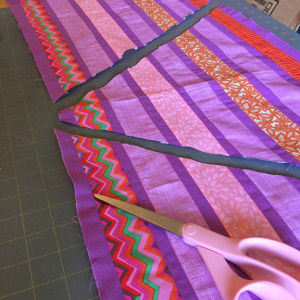 Stay tuned for updates…