There's a re-occurring theme this year that has me looking back to techniques I first learned during my undergrad years.
During another fun Quilty workshop today, Sandra Bruce teaches her technique, "Material Matrix," which involves interpreting gridded photo into pieced quilts, like this fun little cup and saucer.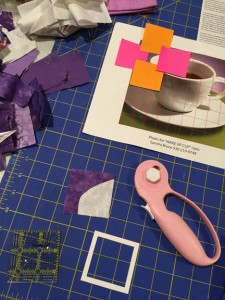 This technique reminds me of working on large-scale murals in college. Now, I find it helpful in piecing gentle curves in bite-sized pieces. When she states that this process "involves piecing in a loose, representational style inspired by the painter, Chuck Close," I feel like I've truly come full circle.
I'm still working on my little Cup o'Tea. Cheers!