At the beginning of the year, I had the awesome privilege to expand my Modern Quilt-making chops through an Improv workshop series on CreativeLive with Cheryl Arkison. Working creatively with value/volume choices, improv piecing techniques and design intention, the four of us in the workshop feverishly sewed through two days and four intense and fun sessions.
In all honesty, I had no idea what I was getting myself into, however, my friend, N and I jumped at the chance to shake things up. And we were not disappointed!
There was one session that really had me working diligently to assemble something presentable centered around Pinwheels. Choose your fabric, cut-n-sew HST's (half-square triangles) and show your work. Much like my Thousand Crane project, I made a few 6″ versions and decided that I needed a few blocks half that size for interest. I also spent some time trimming, so the blocks would come together easily, which they did. I finished just enough to show 16 blocks, though I didn't quite like the layout.
When the workshops wrapped up, I put it away.
Today, I revisited my Pinwheel Party to finish a Modern guild challenge in the eleventh hour. Truly, I've had two months to create a piece in an Alternative Grid style.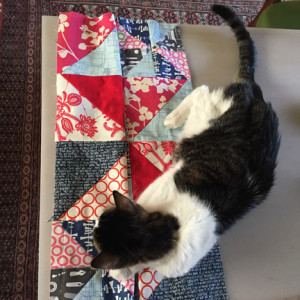 I've thought of several designs and nothing felt right, but these mini pinwheels were waiting patiently. I zipped the mini blocks together, divined the best layout and had something to show for all my thinking.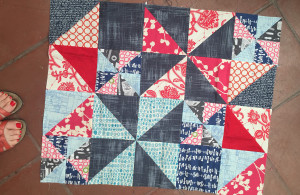 Next up, choosing a backing fabric and quilting. Yay! Pinwheel Party!