Has life become a mad rush of family constraints, work commitments, house construction and social engagements?
Time to rejuvenate yourself with a creative get-away!
There's a certain freedom that comes to mind when I think of 3-4 days of simply creating art in the midst of like-minded individuals. My only focus is on fabric, sketchbook ideas and a design wall, with someone else providing tasty meals, bonus points for contemplative surroundings and a puzzle-solving hike or two. Such was a recent Quilty retreat experience.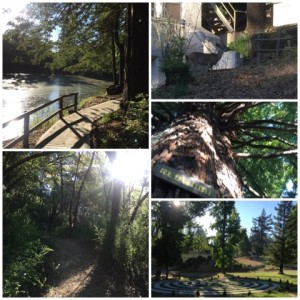 Although I brought several 'projects in progress' (PIPs) so I wouldn't get stuck, I spent a bit of time on 'philly' sewing (for charity/philanthropy) and the 4 planned Improv exercises. Sometimes that happens when you 'take a chance on Improv.' 😉
The four Improv blocks in question are updated versions of traditional blocks from contemporary designers and use six fabrics with the roll of dice to decide which one and how much. Unlike others, I didn't stick to the 12" block and my finished sizes ranged from 14" to 15-1/2". I took a chance that it would all come out okay and I wasn't disappointed. I LOVE them!
Ah, but I really only wanted to work on my most recent Orange Improv PIP. And I did finally assemble my 'I wasn't certain I'd end up using, but it looks just fine to me' 5th B Block. Heh. Then, late Saturday night, I whipped up the sixth B Block and redeemed myself.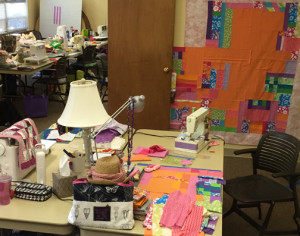 Thus, my design wall below includes:
~ 'Take a Chance' Improv Blocks at the top, sewn in 30's fabric, no less
~ One lone red/white block for my friend's red/white quilt on left
~ All 10 of my finished 'Orange…' Quilt blocks, the 2 I finished are on the far right and I only have 6 more to finish this quilt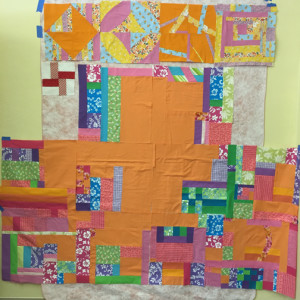 The philly sewing was simple 3-brick blocks that came together quite easily with everyone in attendance sewing together 3 or more, and then myself and a few other ladies assembling the two tops (in cell-block Q, no less!). Here's the design I helped with on Sunday morning: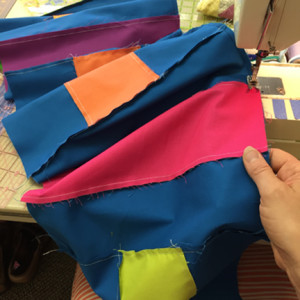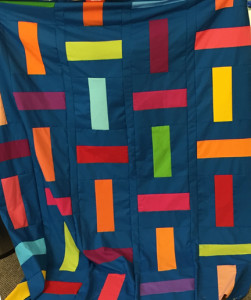 Since I needed to leave after lunch on Sunday, this weekend seemed a little short, but I did get quite a bit done.
And yes, that song was running through my mind all weekend… 'If you change your mind…'