With much excitement, I signed up for Tina's Fabulous Improv Workshop two months ago.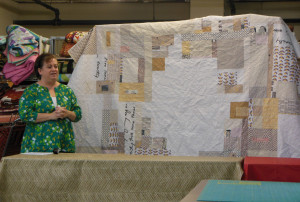 Now, after my sweet kitty lost his battle with intestinal lymphoma just a few short days ago, I feel lost myself. I'm certainly in no shape to face the world, even full of dear Quilty friends.
But as Miss Molly would say, "I paid my money and I'm gonna finish this race!"
Okay then. I need to do something.
First, I must choose fabric! And I finally have enough of a stash to pull out something fun that will hopefully give me that extra boost to face the world.
This is what found me: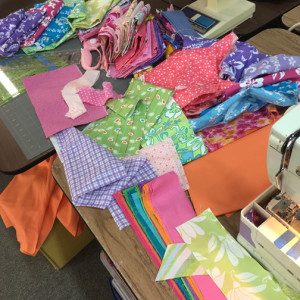 Hawaiian fat quarters paired with a rainbow jelly roll of 2-12" strips (bought simply because it was pretty). Kinda looks like a unicorn went on a bender… but better him than me.
After a rocky start, I pulled out the jellyroll and started sewing colors together. And just as I began to loosen up and have fun, my Husqi had a hissy-fit and seized up on me.
Okay then. I need to do something else.
As it turned out, this little J and I became fast friends. Zip.zip.zip.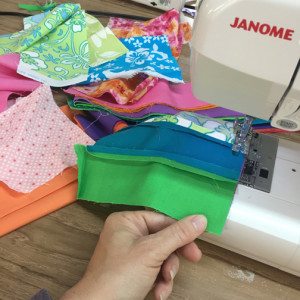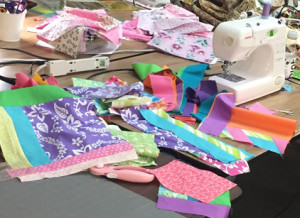 From there, I simply sewed strips to blocks of fabric and cut things apart and made a bunch of 'seeds' as Tina put it. There was no plan for size yet. There were no complicated layouts. It was just, enjoy the freedom of watching fabric happen.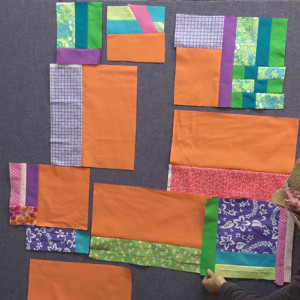 At some point, I added my primary orange fabric and the blocks whispered 'queen-sized' in my ear. Now, I was cooking with fire! They also let me know my quilt's name. Let me introduce you to the first 3 (plus the lower left unfinished & soon to be amended) blocks of my "Orange You Glad I Didn't Say" Quilt.