Over the past few weeks, I have attempted to finish a few WIPs and make room for new projects. I got sidetracked with a design decision on one and waiting for backing fabric for another. However, three's a charm!
Worked in ferocious bursts of productivity, my Happiness Rocks quilt is finished and ready for the biennial show next weekend. Yay!
When I decided that the top seemed a little small for a bed quilt, I knew I'd add a border after all. Sigh. Luckily, the purple-violet Kona solid is a great balance for all that minty green.
Once the borders were set, it was time to piece the backing. Four larger purple quadrants, separated with more 6″ blocks created with the rest of the backing and few remaining scraps, marched across the entire width. (My favorite stripey block below has inspired ideas for yet another quilt!)
Then it was time to mark my quilting design and hope for the best!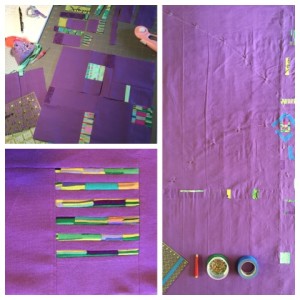 My decision to machine-quilt was a battle at every turn and I couldn't seem to set the tension correctly. My 'mesmerizing' design required straight-line quilting and an even stitch length, so quilting from the purple side worked well once that was straightened out.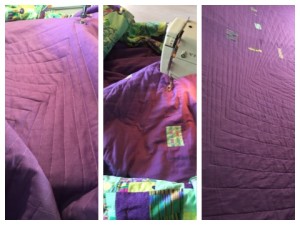 It took me a day to hand-stitch the stripey binding and make my integrated border correctly.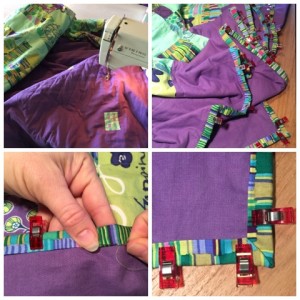 And in the end, I really like how it came together. Perhaps, I'll paint the guest room a lovely shade of purple this spring! Roar!